Porcelain Veneers in San Francisco Can Change Lives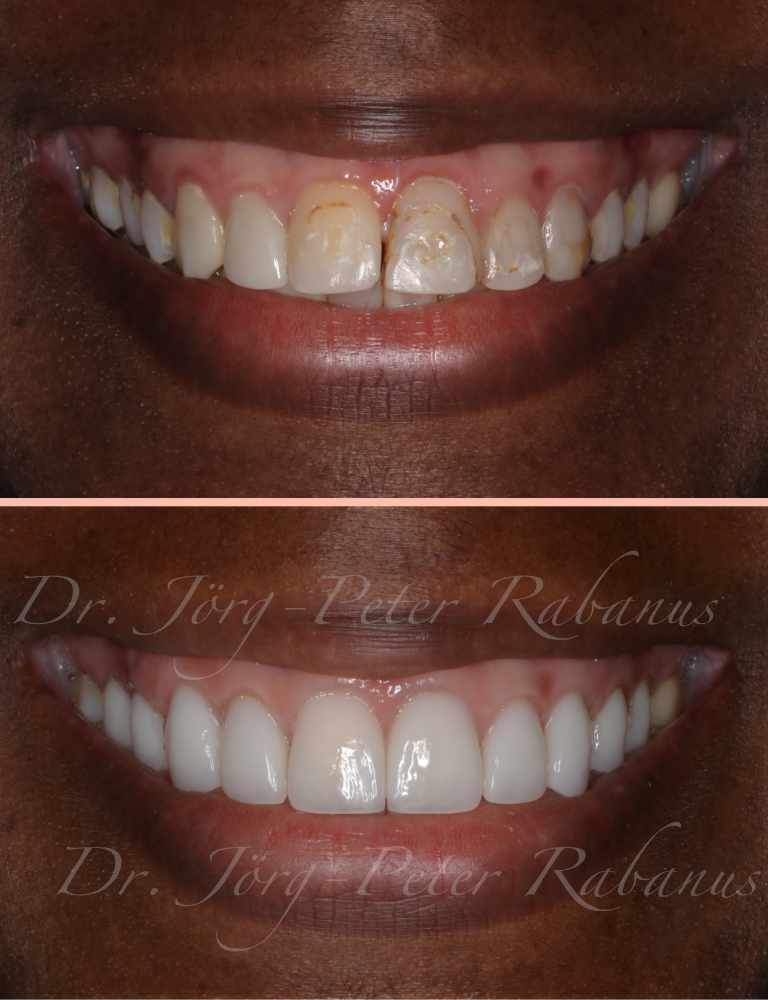 It is as simple as that. A smile makeover has never been as predictable
and as durable, in the experienced hands of an expert, of course.
What needs to be considered when "rejuvenating" a smile?
It always starts with a thorough evaluation of the gums and the health of the teeth. In this case, we ruled out any periodontal disease and noted the desired position of the gum line within the biological parameters of the periodontal attachment apparatus of the teeth. A surgical gum lift was performed. After three months, impressions were taken to develop a smile design on the dental models (diagnostic wax-up). Reduction guides were fabricated that would show us the future outline of the veneers, hence allowing us to prepare the teeth as conservatively as possible. See also How much tooth structure needs to be removed for porcelain veneers.
Once the diagnostic wax-up has been approved by the patient, the appointment for the preparation of the teeth is scheduled. The reduction guides are used to determine the conservative removal of tooth structure within the requirements for the thickness of the porcelain as described in the Youtube video above. New impressions and a bite record are taken of the prepared teeth. A matrix containing an imprint of the diagnostic wax-up is then used to make the acrylic temporary veneers. These provisional veneers have the exact same shape as the designed teeth of the study models. The patient is ready to go home and now has four days to refine his/her aesthetic goals, such as color, incisal tranlucency, outline, proportions, etc. The patient is invited to select his/her favorite smile makeover from my Instagram.
Once the patient has refined his/her goals, the information is transmitted to the dental laboratory, and the fabrication of the porcelain veneers is begun towards the specifications and desires of the patient.
After ten more days, a total of two weeks between preparation of the teeth and the delivery of the porcelain veneers, the new laminates are bonded to the teeth. This entails an intricate process to assure a permanent bond between the teeth and the veneers. The bonding process is shown here: Bonding Procedure.
The patient returns after two weeks for a final check-up to ensure that all excess cement has been removed and the bite has been dialed into the the natural function of the patient's chewing function.