Porcelain veneers, dental veneers, lumineers, or porcelain laminates.
Different terms for the best veneers possible.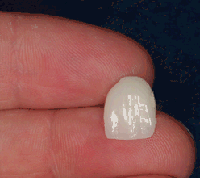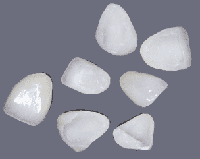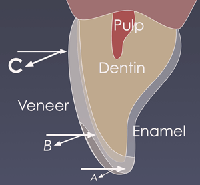 Cosmetic dentist of San Francisco, Dr. Jorg-Peter Rabanus, explains how they are designed and what they can do for every possible dental condition.
Dental veneers are fabricated of biocompatible materials, such as porcelains, composite acrylics, or combinations of different porcelains or ceramics.
'Porcelain laminate' is an older term for 'porcelain veneer.' The term 'laminate' comes from the latin word 'lamina' which means 'thin plate' or 'scale.' Lamination is a uniting of superposed layers of a protective material by an adhesive or other means.
The best veneers are fabricated in the dental laboratory by specific cutback and layering techniques. The term 'veneer' comes from the german word 'furnier.' Originally, it was a thin sheet of wood adapted for adherence to a smooth surface. Porcelain veneers have principally the same protective and aesthetic function as wood veneers. They are thin layers of high quality materials that are bonded to a smooth understructure. Veneers are the most common procedures offered by cosmetic dentists. They have many applications, such as
strengthening of weeakened enamel,
restoration of eroded and worn enamel,
veneering with a whiter layer of porcelain to mask heavily stained teeth, and
creating more youthful attributes, by incorporating incisal translucency, harmonic line angles, and the proportions of young teeth.
We will constantly update the information about porcelain materials and the technology that are used for these purposes.
Porcelain veneers are a rapid, aesthetic, and safe way to correct unattractive front teeth. They correct heavy dental stains, teeth that are crooked, disproportionate, relatively small (with spaces), and structurally damaged. As mentioned above, they are shells of ceramic/porcelain material that can be chemically bonded to tooth structure. Dental veneers are the most popular treatment modality for comprehensive smile makeovers.
One of the most significant breakthroughs in dentistry has been the development of new adhesion techniques and materials (see also this review of cosmetic dental porcelains) that enable the dentist to successfully adhere organic tissues and inorganic materials to each other.
The bonding between a porcelain veneer and the natural tooth surface is very strong if done correctly. It can be so great that an accidental trauma of a veneered tooth may cause a fracture within the tooth structure and not at the interface of porcelain veneer to prepared tooth surface.
Bonded to tooth structure, certain porcelain veneer materials display similar physical properties as natural enamel. In addition, with the advance of ceramic technology, natural layers and youthful translucencies of vital teeth can be perfectly mimicked.
For further information, go to page "Materials and Methods" in the section "Technical Specifications."
Smile makeovers with porcelain veneers often involve just one diagnostic and two treatment visits. The first visit is for diagnosis and dental impressions that are used to create a diagnostic wax-up on study models. During the second visit, the information obtained with the model analysis and the diagnostic wax-up will be used to prepare the teeth. Master impressions of the prepared teeth will be taken. Temporary acrylic veneers are created with acrylic-filled matrices that are molds of the diagnostic wax-up. Hence, the temporary veneers look exactly like the diagnostic wax-up, allowing the patient and the cosmetic dentist to evaluate their appearance and comfort in the patient's mouth. The processing at the dental laboratory usually takes two weeks. The final porcelain veneers are permanently bonded at the last office visit.