Small Teeth with Spaces are Often Treated with Porcelain Veneers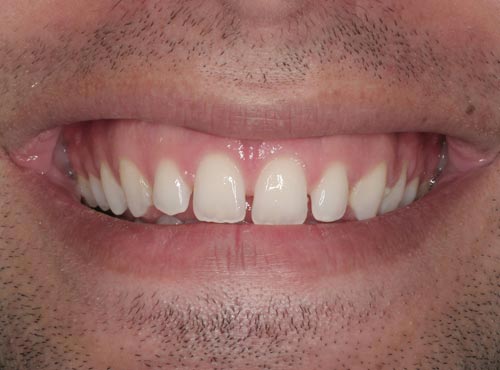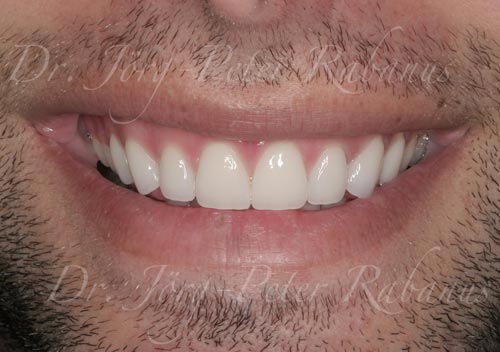 Dental diastemas are caused by discrepancies of tooth size and arch length, as associated with microdontia, hypodontia, or increased arch dimensions. The relative mesiodistal width of the anterior teeth and the length of the dental arch are disproportionate.
The corrective dental treatment of choice depends on a meticulous analysis of the various dimensions of the teeth, the length/width of the dental arches, as well as the causes that contributed to the development of the dental diastemas of a particular dental patient.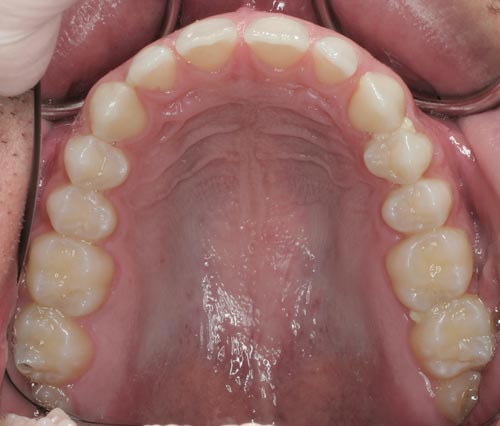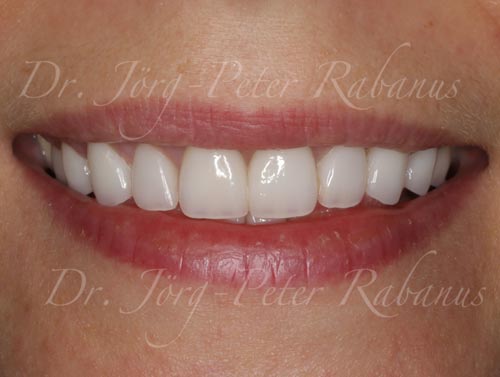 In many cases, orthodontic treatment is the therapy of choice. However, if small teeth, called microdontia, are the primary reason for the diastemas, while the dental arches of the maxilla or mandible appear to be normal relative to the entire cranial skeletal framework, orthodontic treatment will not produce aesthetically satisfying results. Teeth would still appear timid and possibly malformed. In addition, diastema closure via orthodontic treatment commonly requires a lifelong stabilization of their new position with bonded lingual retainers, hence interfering with quality of life issues.
In many cases, an interdisciplinary course of treatment is necessary. Orthodontic tooth alignment focuses at such occasions on the even distribution of existing spaces, which will allow the cosmetic dentist to create proportions that match the patient's physiological and aesthetic facial landmarks. At times, it may be attempted to establish
Golden proportions.
In cases of minor misalignment and minor spacing, porcelain veneers might be used to correct both aspects without the need of orthodontic treatment. Such cases do not require the permanent fixation of teeth in their original position since they had not been moved away from their established location. Hence, they do not tend to move. In addition, porcelain veneers will help to lock the original position of small teeth in their position.
More thoughts about
small and big teeth
are discussed elsewhere.

Goyal A, et el. Diastema Closure in Anterior Teeth Using a Posterior Matrix. Case Rep Dentistry. 2016, PMC Article internet.
Abraham R, et al. Midline diastema and its aetiology - a review. Dentistry Update. 2014 Jun; 41(5): 457-60, 462-4.
Oquendo A, et el. Diastema: correction of excessive spaces in the esthetic zone. Dental Clinics North America. 2011 Apr; 55(2): 265-81.
Gkantidis N, et al. Management of maxillary midline diastema with emphasis on etiology. J Clin Pediatr Dentistry. 2008; 32 (4): 265-72.
Terzioglu H1, Akcam O, Yilmaz B, Halil S. Interdisciplinary treatment of multiple maxillary anterior diastemas: case report. Gen Dentistry. 2009; 57(2): e15-9.