The multi-step process towards a new smile with porcelain veneers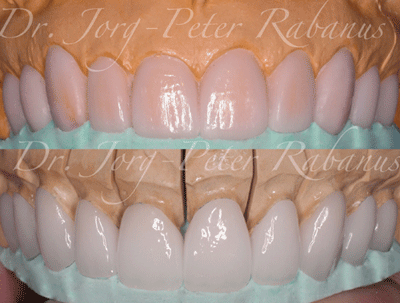 This upper image shows a diagnostic wax-up of a new smile. The new contours and forms are fully integrated into maxillomandibular mechanics. However, it has not been tested in the patient's mouth for its integration into soft-tissue function, such as speech and lip closure path. The porcelain veneers, as shown on the model below, were designed per findings during the test phase with the temporary veneers that were copies of the diagnostic wax-up.
The Ten Essential Steps To A New and Happy Smile:
Consultation cosmetic dentist to discuss problems, concerns, and goals. Evaluation of current dental condition, oral function, and facial aesthetics. Collection of all necessary records, including photographic and radiographic images.
Meeting to discuss findings and answer any questions that patient may have. Develpoment of common goals, realistic expectations, and treatment plan.
Dental impressions of upper and lower teeth. Bite record. Facial records.
Fabrication of dental model work and a diagnostic mock-up, also called wax-up, as a reference for the future design of the porcelain restorations.
Review of the model work and diagnostic mock-up of tooth form and proportions.
Preparation of teeth involved. Master impressions of prepared teeth, bite record, facial records taken. Transfer of diagnostic mock-up as acrulic temporary restorations into patient's mouth via matrices.
Meeting to review the intraoral mock-up. Discuss any functional and/or aesthetic concerns, which will be immediately addressed.
Once the intraoral mock-up fullfills patient's expectations and feel completely comfortable, all pertinent information will be sent to the dental lab. This includes the desired overall shade, the degree of incisal translucencies, and the desired dental line angles.
Insertion of completed dental porcelain restorations. Fine tuning of bite relationships.
Follow-up meeting to ensure complete patient satisfaction.


Find more information about porcelain veneers.


References:
Gary Alex et al. Comprehensive Dentistry: The key to predictable smile design. American Academy of Cosmetic Dentistry Monograph, 2006, pp. 15-20.
Charles Jay Miller. Esthetic Dentistry - The Smile Line as a Guide to Anterior Esthetics. Dental Clinic North America, 1989 vol. 33 (2) pp. 157-164.
J Morley. The role of cosmetic dentistry in restoring a youthful appearance. J Am Dental Association, 1999 vol. 130 (8) pp. 1166-72.
J Morley, J Eubank. Macroesthetic elements of smile design. J Am Dental Association, 2001 vol. 132 (1) pp. 39-45.
Lindsey D Pankey, Arvin W Mann. Oral rehabilitation - Part II. Reconstruction of the upper teeth using a functionally generated path technique. J Prosthetic Dentistry, 1960 vol.10(1) pp. 151-162.
Sanjay Manhar Parekh et al. Attractiveness of variations in the smile arc and buccal corridor space as judged by orthodontists and laymen. Angle Orthodontist, 2006 vol. 76 (4) pp. 557-63.
Charles Schroeter. Practical application of tooth morphology. J Prosthetic Dentistry, 1959 vol. 9 (5) pp. 867-873.
Steven P Weinstein. Classification of clinical attributes in tooth appearance. Pract Proced Aesthetic Dentistry, 2008 vol. 20 (3) pp. 143-51.
Elizabeth M Bakeman. Responsible Esthetics: Esthetic Considerations Within the Framework of the Comprehensive Diagnosis and Treatment Plan. J Cosmetic Dentistry, 2010 vol. 26 (2) pp. 60-78.
J Brad Jones. Making A Six-Unit Smile Design "Disappear" in the Mouth Using Feldspathic Porcelain. J Cosmetic Dentistry, 2007 vol. 22 (4) pp. 75-83.
Andre Michel. Predictable smile design. J Cosmetic Dentistry, 2009 vol. 25 (2) pp. 110-116.
Jack Ringer. dvanced technologies and the cosmetic dental practice. J Cosmetic Dentistry, 2010 vol. 25 (4) pp. 82-90.
Thomas F Trinkner. Achieving Esthetic Goals While Maintaining Proper Bite Relationships Throughout Treatment. Cont Esthetic Restorative Practice, 2003 vol. September pp. 38-50.
Thomas F Trinkner, Matthew R Roberts. A systematic approach to anterior esthetics. Cont Esthetic Restorative Practice, 2003 pp. 42-49.
Nicholas C Davis. Smile design. Dental Clinics of North America, 2007 vol. 51 (2) pp. 299-318.
Avi Donitza. Creating the perfect smile: prosthetic considerations and procedures for optimal dentofacial esthetics. J Calif Dental Association, 2008 vol. 36 (5) pp. 335-40, 342.
Ken M Hamlett, Larry W Rosenthal. Steps in creating a beautiful smile. J Cosm Dent, 2008 vol. 34 (4) pp. 92-96.
J A Holloway, R B Miller. The effect of core translucency on the aesthetics of all-ceramic restorations. Pract Periodontics Aesthetic Dentistry, 997 vol. 9 (5) pp. 567-74.